GOLEMESS IV — PROTECTRESS OF TRUTH

TERRAIN BIENNIAL LA

LOS ANGELES CA 2017-18
KABBALAH SERIES

Earth, Sand, Water, Plant Material,
Two Computers & Digital SoundScape

Dimensions Variable

DEDICATED TO ANA MENDIETA
You can bend it and twist it...
You can misuse and abuse it...
But even God cannot change the Truth.
—Michael Levy


These images are part of the late Ana Mendieta's Silueta series
— reasserting my ties with the earth is really the reactivation of primeval beliefs...
[in] an omnipresent female force.
Ana created female silhouettes in nature with natural materials using the four basic elements.
Her Siluetas focused on a spiritual and physical connection with the earth
and Golemess has a direct lineage with a myriad of threads connecting these two female series:
ritual, magic, spirituality, the four elements and a religious underpinning.

CoLabART invoked Golemess IV, the newest work in our Kabbalah Series,
for the Terrain Biennial due to its dedication to Ana Mendieta, her history and the momentus moment in time[#Me Too + #Time's Up].
At this moment, the transgressive nature of truth required that an intersectionality perspective
be brought to the forefront of CoLabART's art practice.

Political, economic and demographic changes in societies around the world have put pressures on the existing, conventional gender roles,
indicators of emerging new forms of femininity and their societal roles are constantly eroding traditional gender boundaries.
As gender binarism [the classification of sex and gender into two distinct, opposite and disconnected forms of masculine and feminine]
begins to increasingly break down this artificial division of the world into things that are masculine or for men
and things that are feminine or for women, society must accommodate these new boundaries.
Women are not tired of the ideas of equality and do not feel that the subject of social injustice and oppression
had been exhausted. Women demand more rights and independence and a new type of woman, the educated,
self-supporting New Woman has had a cultural and often a political impact, especially notable by celebrities,
feminists and activists that have come forward to help birth the #Me Too and #Time's Up movements.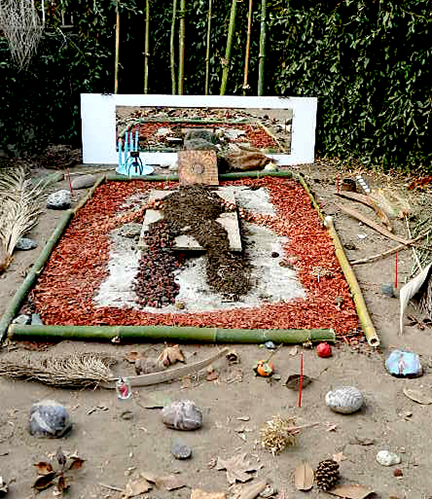 2017 was a year which saw the truth – objective, empirical, evidence-based truth – more battered and abused
than any other in the history of our country, at the hands of the most powerful figure in our government.
—Republican Senator Jeff Flake, Arizona, from his January 15th 2018 defense of truth speech on the Senate Floor

TRUTH BATTERED AND ABUSED

The Case of Ana Mendieta
Art in America
news Oct 12, 2010

Maximum Outrage Over Minimalist Sculptor
Carl Andre: OJ of the Art World?


Mendieta was provoked into creating the short film, Sweating Blood,
after a young woman was raped and murdered on her university campus in 1973.
The horrific death inspired her most provocative works, such as Rape Scene, Rape Performance and Moffitt Building Piece.
In death, an artist and a young woman meet...The Guardian
Just before midnight Tuesday, March 13, 1973,
20-year-old Sarah Ann Ottens of Morrison, Illinois
was found dead in room 429 of Rienow Hall at the University of Iowa in Iowa City - Spring Break Killer

She and her sister were sent to Iowa as part of Operation Peter Pan when Ana was 12 years old.
Her father was a political prisoner in Cuba.
His imprisonment was one of the reasons why her separation
from her parents and brother went on for so long and this was painful for her.
Ana Mendieta's Enduring Legacy In The Words Of Coco Fusco






In Hebrew, the word for truth — Emet contains the first, middle and the last letter of the Hebrew alphabet
indicating that truth encompasses all things and endures from the beginning to the end.
It is also one of G–d's many names and how one gives the life force to a golem.
To remove the life spirit one removes the Aleph and has death — Met.


If we attempt to ignore or suppress our understanding of truth, we end up with death.
Take something away from the truth — you have spiritual death.


We need to unmask what could be called the 'snake-tactics'used by those
who disguise themselves in order to strike at any time and place.
—Pope Francis



A liar will not be believed, even when he speaks the truth.
—Aesop



As is the tradition of CoLabART projects,
it included the work of two deceased, Cuban-American artists
Felix Gonzales–Torres and Ana Mendieta
[whose work and life the LA version was dedicated to].

It also included a mixed–media work of the LA-based artist/activist Merrilyn "Cookie" Duzy
whose visage was a homage to her deceased friend and fellow artist, Norma Jean Squires;
Stones on loan from the Petriverse of Pierre Jardin – Paul Harris, Loyola Marymount University;
In The Beginning SoundScape created in collaboration with LA-based musician,
sound designer and voice artist, Stephen G. Scott of Pinnacle Audio Group;
and an interpretive dance by Devo Cutler "Sweeping Truth Under the Rug"
accompanied percussion by Wendy Cutler.




GOLEMESS IV — PROTECTRESS OF TRUTH
TERRAIN BIENNIAL LA



INSTALLATION

PERFORMANCE
SWEEPING TRUTH
UNDER THE RUG





GOLEMESS I – PROTECTRESS FOR FREEDOM OF EXPRESSION
MULTIMEDIA, SITE–SPECIFIC INSTALLATION



GOLEMESS II – PROTECTRESS FOR THE ARTS
MULTIMEDIA, SITE–SPECIFIC INSTALLATION


GOLEMESS III – PROTECTRESS FOR THE ENVIRONMENT
MULTIMEDIA, SITE–SPECIFIC INSTALLATION


All audio files on this site are excerpts from an original sound composition –IN THE BEGINNING – especially created by the artists for their Golemess installations.

Realized in collaboration with the musician, sound designer and voice artist, Stephen G. Scott of Pinnacle Audio Group this composition is the audio facet to
THE KABBALIST – a computer interactive, multimedia performance work–in–progress.

We hope to produce THE KABBALIST performance work in major cities in the United States and Europe.
At each performance site, we plan to collaborate with visual artists, writers, educators, musicians, choreographers/dancers, stage designers, etc.

In the spirit of collaboration, we welcome your thoughts and ideas.
Please drop us a line if you have contributions, suggestions, comments or wish to be involved in CoLabART Productions.